X-Jow Pain Relief Gel (4oz)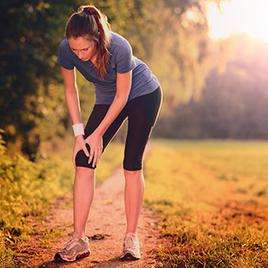 Your Natural Solution for Pain
Easing Inflammation and Promoting Healing, the Natural Way
X-JOW IS A REVOLUTIONARY PAIN RELIEF GEL, which combines the infinite wisdom of Western and Chinese healing arts. By combining Turmeric, Saffron, Frankincense, Myrrh and other Chinese herbs, through proprietary process, we created an analgesic formulation to address an age old issue of pain, traumatic, and sports injuries.
X-jow is NSAID free yet powerful gel, which penetrates quickly to provide pain relief for Sprains, Strains, Back and Neck pain, Arthritis, Sports Injuries such as, Tennis Elbow, Wrist Sprains, Runner's Knee, Sprained Ankle, Bruising and other painful conditions.
Extensive Use With Proven Success
Using X-Jow Pain Gel
X-jow pain gel has taken this industry by storm. For the past 18 years Acupuncturists, Chiropractors, Osteopaths, Physical Therapist, Athletic teams used X-Jow to provide fast pain relief, and injury recovery, for their patients and athletes.
Apply X-Jow Pain Gel liberally to the affected area while continuously rubbing it in for 3-5 minutes. Repeat 2-3 times daily or as needed. For the best results, X-Jow Pain Gel can be used in conjunction with massage.
Warning: Keep out of the reach of children. Discontinue use if skin irritation occurs. People with medical concerns should check with their physicians before use.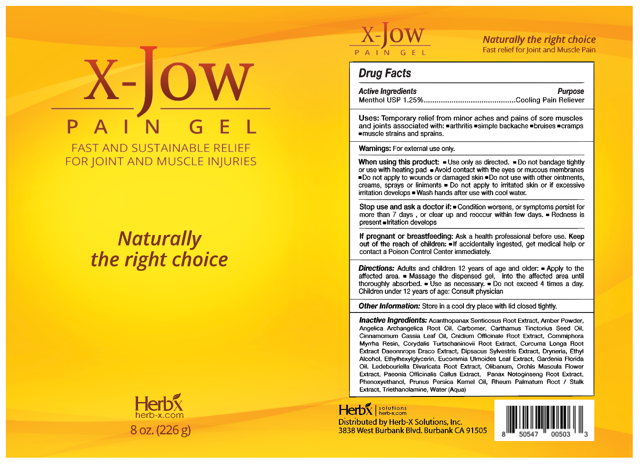 Active Ingredients
Menthol USP 1.25 % – Cooling Pain Reliever
Iinactive ingredients
Acanthopa nax Senticosus Root Extract, Amber Powder, Angelica Archangelica Root Oil, Carbomer, Carthamus Tinctorius Seed Oil, Cinnamomum Cassia Leaf Oil, Cnidium Officinale Root Extract, Commiphora Myrrha Resin , Drynaria , Corydalis Titschaninovii Root Extract, Curcuma Longa Root Extract, Daemonorops Draco Extract, Ethyl Alcohol, Ethylhexylgycerin, Eucommia Ulmoides Leaf Extract, Olibanum, Orchis Mascula Flower Extract, Paeonia Officinalis Callus Extract, Panax Notoginseng Root Extract, Phenoxyethanol, Prunus Persica Kernel Oil, Rheum Palmatum Root/Stalk Extract, Triethanolamine, Water (aqua).
TRY X-JOW TODAY, NO RISK INVOLVED.
100% MONEY BACK GUARANTEE! If for whatever reason you are less than 100% satisfied with x-jow please contact us through herb-x.com directly to get a full refund on your purchase.